This trend is not really new either. The appearance of stone and marble is elegant and very classic. Cost? We should no longer worry about the price! The natural appearance of wood and stone is becoming increasingly accessible accessibility. Now! you can achieve these beautiful stone looks without looking at the price.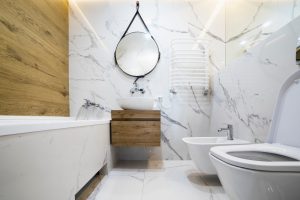 For example, most people cannot afford marble floors. The truth is that natural materials are expensive.
The new trend of interior design will be:
Marble-look flooring. Chic and classic, the marble look will never go out of style
Slate-look kitchen flooring. Clean, natural and edgy, slate kitchen floors are great for a minimalist decor. Just like marble, you can expect to see slate looks in ceramic and vinyl tile.
It is time to play with the new trends and transform our spaces into unique experiences.!